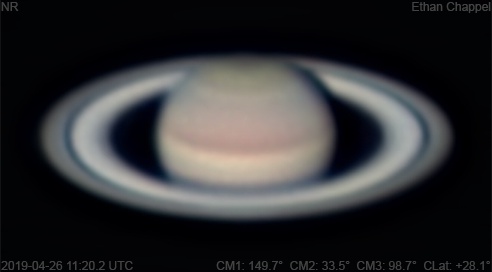 Saturn UTC
CM1: 149.70°
CM2: 33.50°
CM3: 98.70°
CLat: +28.10°
Description
After a difficult start with Jupiter, I had an easier time with Saturn. As I was aiming the C8 towards the ringed planet, a few deer came into my area and started snorting at me.

Notes:
There is a bright zone in the northern hemisphere.
Far northern regions are green.
Equipment
ZWO ASI174MM
Celestron X-Cel 3x
Celestron EdgeHD 8
Logs
FireCapture v2.6  Settings
------------------------------------
Observer=Ethan Chappel
Camera=ZWO ASI174MM
Filter=B
Profile=Saturn
Diameter=16.99"
Magnitude=0.46
CMI=151.6° CMIII=100.5°  (during mid of capture)
FocalLength=8550mm (F/30)
Resolution=0.14"
Filename=2019-04-26-1123_5-EC-B-Sat.ser
Date=2019_04_26
Start=11_22_19.104
Mid=11_23_34.110
End=11_24_49.116
Start(UT)=11_22_19.104
Mid(UT)=11_23_34.110
End(UT)=11_24_49.116
Duration=150.012s
Date_format=yyyy_MM_dd
Time_format=HH_mm_ss
LT=UT -6h
Frames captured=3172
File type=SER
Binning=no
Bit depth=8bit
Debayer=no
ROI=412x264
ROI(Offset)=0x0
FPS (avg.)=21
Shutter=47.25ms
Gain=400 (100%)
AutoExposure=off
Brightness=1 (off)
Gamma=50 (off)
HighSpeed=off
SoftwareGain=10 (off)
USBTraffic=80 (off)
AutoGain=off
AutoHisto=75 (off)
FPS=100 (off)
Histogramm(min)=0
Histogramm(max)=114
Histogramm=44%
Noise(avg.deviation)=2.58
AutoAlign=false
PreFilter=none
Limit=150 Seconds
Sensor temperature=31.5°C
FireCapture v2.6  Settings
------------------------------------
Observer=Ethan Chappel
Camera=ZWO ASI174MM
Filter=G
Profile=Saturn
Diameter=16.99"
Magnitude=0.46
CMI=149.7° CMIII=98.6°  (during mid of capture)
FocalLength=8450mm (F/30)
Resolution=0.14"
Filename=2019-04-26-1120_2-EC-G-Sat.ser
Date=2019_04_26
Start=11_18_58.514
Mid=11_20_13.530
End=11_21_28.547
Start(UT)=11_18_58.514
Mid(UT)=11_20_13.530
End(UT)=11_21_28.547
Duration=150.033s
Date_format=yyyy_MM_dd
Time_format=HH_mm_ss
LT=UT -6h
Frames captured=3885
File type=SER
Binning=no
Bit depth=8bit
Debayer=no
ROI=412x264
ROI(Offset)=0x0
FPS (avg.)=25
Shutter=38.58ms
Gain=400 (100%)
AutoExposure=off
Brightness=1 (off)
Gamma=50 (off)
HighSpeed=off
SoftwareGain=10 (off)
USBTraffic=80 (off)
AutoGain=off
AutoHisto=75 (off)
FPS=100 (off)
Histogramm(min)=0
Histogramm(max)=96
Histogramm=37%
Noise(avg.deviation)=2.53
AutoAlign=false
PreFilter=none
Limit=150 Seconds
Sensor temperature=31.2°C
FireCapture v2.6  Settings
------------------------------------
Observer=Ethan Chappel
Camera=ZWO ASI174MM
Filter=R
Profile=Saturn
Diameter=16.99"
Magnitude=0.46
CMI=147.8° CMIII=96.8°  (during mid of capture)
FocalLength=8400mm (F/30)
Resolution=0.14"
Filename=2019-04-26-1116_9-EC-R-Sat.ser
Date=2019_04_26
Start=11_15_43.973
Mid=11_16_58.974
End=11_18_13.975
Start(UT)=11_15_43.973
Mid(UT)=11_16_58.974
End(UT)=11_18_13.975
Duration=150.002s
Date_format=yyyy_MM_dd
Time_format=HH_mm_ss
LT=UT -6h
Frames captured=3273
File type=SER
Binning=no
Bit depth=8bit
Debayer=no
ROI=412x264
ROI(Offset)=0x0
FPS (avg.)=21
Shutter=45.80ms
Gain=400 (100%)
AutoExposure=off
Brightness=1 (off)
Gamma=50 (off)
HighSpeed=off
SoftwareGain=10 (off)
USBTraffic=80 (off)
AutoGain=off
AutoHisto=75 (off)
FPS=100 (off)
Histogramm(min)=0
Histogramm(max)=106
Histogramm=41%
Noise(avg.deviation)=2.53
AutoAlign=false
PreFilter=none
Limit=150 Seconds
Sensor temperature=30.6°C