Saturn 2019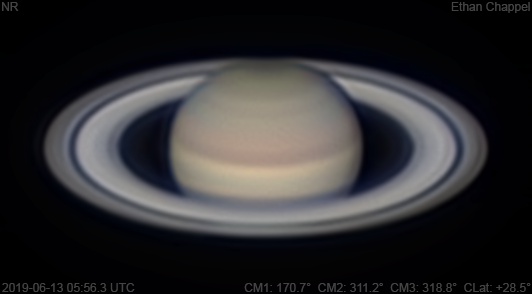 UTC
I swapped imaging trains again so I was capturing with the ZWO RGB filters. I want to see how they stack up to the Chroma equivalents used for the previous image. Seeing was surprisingly decent despite the somewhat low altitude and turbulent sky.
More Info...
UTC
After a good round of imaging with Jupiter, I wanted to see if Saturn would any good despite being only 24° high. I'm doing another round of comparison between the ZWO and Chroma RGB filters. This image is with the Chroma filters, while the next one will be with the ZWO filters.
More Info...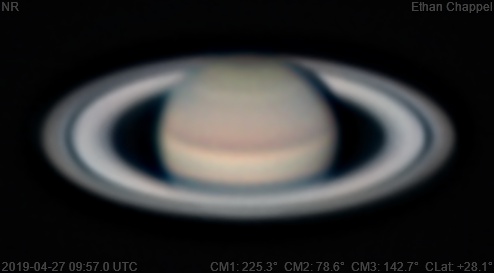 UTC
The seeing continued it's streak of being poor the past few months.

Notes:
The far northern regions are green.
One of the northern zones is particularly bright.
More Info...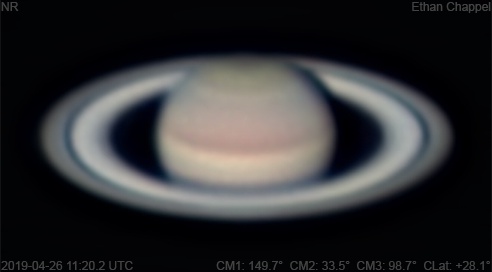 UTC
After a difficult start with Jupiter, I had a slightly better time with Saturn. As I was aimed the C8 at Saturn, a few deer came into my area and started snorting at me.

Notes:
There is a bright zone in the northern hemisphere.
Far northern regions are green.
More Info...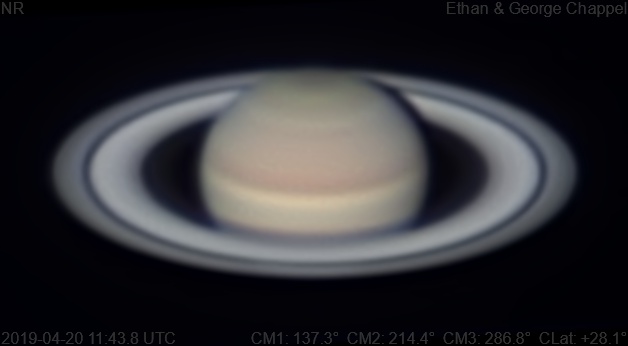 UTC
Seeing was a little better after moving on to Saturn from Jupiter, but nothing special.

Notes:
There appears to be a faintly visible bright smudge visible near the north pole at the central meridian.
More Info...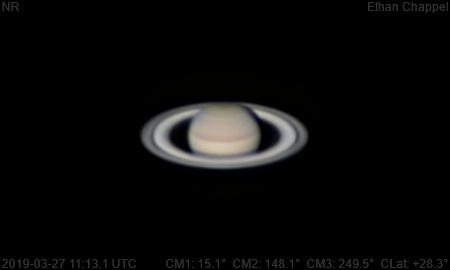 UTC
Despite the various issues I had imaging Jupiter, I decided to move on to Saturn. Since there was no alignment because of my earlier power issues, I had to manually aim at Saturn and track it with the hand controller.

Notes:
The rings no longer peek over the north pole of the planet.
More Info...