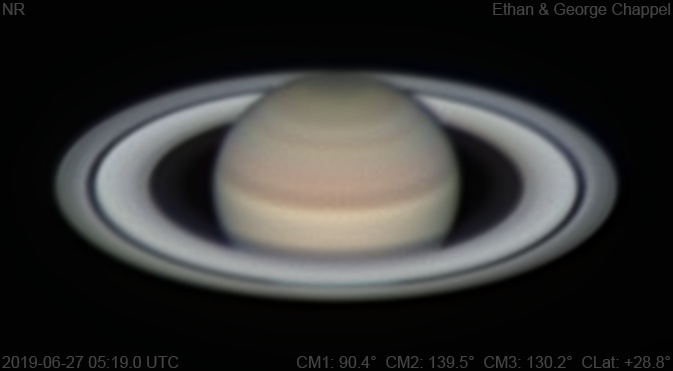 Saturn UTC
CM1: 90.40°
CM2: 139.50°
CM3: 130.20°
CLat: +28.80°
Description
I noticed clouds were closing in while capturing methane images of Jupiter, so I hurried over to Saturn before it was too late to capture anything. The clouds reached Saturn before I started recording, but I managed to persist enough to capture an RGB set.

Notes:
High northern latitudes are green.
The North Temperate Zone is bright.
Equipment
ZWO ASI290MM
Astro-Physics Advanced Convertible Barlow
Celestron EdgeHD 14
Logs
FireCapture v2.6  Settings
------------------------------------
Observer=Ethan Chappel
Camera=ZWO ASI290MM
Filter=B
Profile=Jupiter
Diameter=45.60"
Magnitude=-2.59
CMI=299.2° CMII=335.0° CMIII=309.7°  (during mid of capture)
FocalLength=6250mm (F/22)
Resolution=0.10"
Filename=2019-06-27-0523_1-EC-B-Jup.ser
Date=2019_06_27
Start=05_22_08.324
Mid=05_23_08.337
End=05_24_08.351
Start(UT)=05_22_08.324
Mid(UT)=05_23_08.337
End(UT)=05_24_08.351
Duration=120.027s
Date_format=yyyy_MM_dd
Time_format=HH_mm_ss
LT=UT -6h
Frames captured=4799
File type=SER
Binning=no
Bit depth=8bit
Debayer=no
ROI=968x522
ROI(Offset)=0x0
FPS (avg.)=39
Shutter=25.00ms
Gain=470 (78%)
AutoGain=off
USBTraffic=40 (off)
FPS=100 (off)
Gamma=50
SoftwareGain=10 (off)
AutoExposure=off
HighSpeed=off
Brightness=1 (off)
AutoHisto=75 (off)
Histogramm(min)=0
Histogramm(max)=237
Histogramm=92%
Noise(avg.deviation)=4.94
AutoAlign=false
PreFilter=none
Limit=120 Seconds
Sensor temperature=33.7°C
Focuser position=4870
FireCapture v2.6  Settings
------------------------------------
Observer=Ethan Chappel
Camera=ZWO ASI290MM
Filter=G
Profile=Jupiter
Diameter=45.60"
Magnitude=-2.59
CMI=296.6° CMII=332.4° CMIII=307.1°  (during mid of capture)
FocalLength=5900mm (F/21)
Resolution=0.10"
Filename=2019-06-27-0518_7-EC-G-Jup.ser
Date=2019_06_27
Start=05_17_47.194
Mid=05_18_47.528
End=05_19_47.863
Start(UT)=05_17_47.194
Mid(UT)=05_18_47.528
End(UT)=05_19_47.863
Duration=120.669s
Date_format=yyyy_MM_dd
Time_format=HH_mm_ss
LT=UT -6h
Frames captured=1543
File type=SER
Binning=no
Bit depth=8bit
Debayer=no
ROI=968x522
ROI(Offset)=0x0
FPS (avg.)=12
Shutter=37.85ms
Gain=442 (73%)
AutoGain=off
USBTraffic=40 (off)
FPS=100 (off)
Gamma=50 (off)
SoftwareGain=10 (off)
AutoExposure=off
HighSpeed=off
Brightness=1 (off)
AutoHisto=75 (off)
Histogramm(min)=0
Histogramm(max)=255
Histogramm=100%
Noise(avg.deviation)=3.72
AutoAlign=false
PreFilter=none
Limit=120 Seconds
Sensor temperature=33.7°C
Focuser position=4905
FireCapture v2.6  Settings
------------------------------------
Observer=Ethan Chappel
Camera=ZWO ASI290MM
Filter=R
Profile=Jupiter
Diameter=45.61"
Magnitude=-2.59
CMI=294.4° CMII=330.3° CMIII=305.0°  (during mid of capture)
FocalLength=6200mm (F/22)
Resolution=0.10"
Filename=2019-06-27-0515_2-EC-R-Jup.ser
Date=2019_06_27
Start=05_14_17.847
Mid=05_15_17.873
End=05_16_17.899
Start(UT)=05_14_17.847
Mid(UT)=05_15_17.873
End(UT)=05_16_17.899
Duration=120.052s
Date_format=yyyy_MM_dd
Time_format=HH_mm_ss
LT=UT -6h
Frames captured=2351
File type=SER
Binning=no
Bit depth=8bit
Debayer=no
ROI=968x522
ROI(Offset)=0x0
FPS (avg.)=19
Shutter=46.53ms
Gain=359 (59%)
AutoGain=off
USBTraffic=40 (off)
FPS=100 (off)
Gamma=50 (off)
SoftwareGain=10 (off)
AutoExposure=off
HighSpeed=off
Brightness=1 (off)
AutoHisto=75 (off)
Histogramm(min)=0
Histogramm(max)=120
Histogramm=47%
Noise(avg.deviation)=1.43
AutoAlign=false
PreFilter=none
Limit=120 Seconds
Sensor temperature=33.6°C
Focuser position=4885