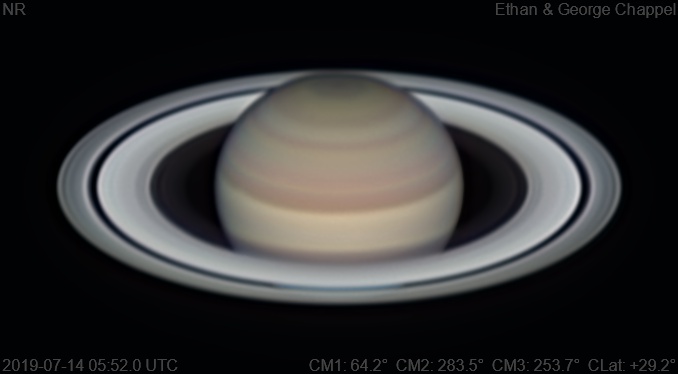 Saturn UTC
CM1: 64.20°
CM2: 283.50°
CM3: 253.70°
CLat: +29.20°
Description
Finally, a night that wasn't too breezy for the CGEM DX and C14. I thought the seeing was only a little above average while recording, but it turned out to be excellent.

Notes:
The north polar hexagon and its core are resolved.
A small niche on the edge of the Equatorial Zone is rising.
Equipment
ZWO ASI290MM
Astro-Physics Advanced Convertible Barlow
Celestron EdgeHD 14
Logs
FireCapture v2.6  Settings
------------------------------------
Observer=Ethan Chappel
Camera=ZWO ASI290MM
Filter=R
Profile=Saturn
Diameter=18.31"
Magnitude=0.07
CMI=43.1° CMIII=233.4°  (during mid of capture)
FocalLength=8150mm (F/29)
Resolution=0.07"
Filename=2019-07-14-0516_0-EC-R-Sat.ser
Date=2019_07_14
Start=05_14_49.781
Mid=05_16_04.783
End=05_17_19.786
Start(UT)=05_14_49.781
Mid(UT)=05_16_04.783
End(UT)=05_17_19.786
Duration=150.005s
Date_format=yyyy_MM_dd
Time_format=HH_mm_ss
LT=UT -6h
Frames captured=7497
File type=SER
Binning=no
Bit depth=8bit
Debayer=no
ROI=696x384
ROI(Offset)=0x0
FPS (avg.)=49
Shutter=20.00ms
Gain=350 (58%)
FPS=100 (off)
HighSpeed=off
USBTraffic=40 (off)
Gamma=50 (off)
AutoGain=off
AutoExposure=off
SoftwareGain=10 (off)
AutoHisto=75 (off)
Brightness=1 (off)
Histogramm(min)=0
Histogramm(max)=129
Histogramm=50%
Noise(avg.deviation)=1.52
AutoAlign=false
PreFilter=none
Limit=150 Seconds
Sensor temperature=37.7°C
Focuser position=4565
FireCapture v2.6  Settings
------------------------------------
Observer=Ethan Chappel
Camera=ZWO ASI290MM
Filter=B
Profile=Saturn
Diameter=18.31"
Magnitude=0.07
CMI=71.1° CMIII=260.3°  (during mid of capture)
FocalLength=8100mm (F/28)
Resolution=0.07"
Filename=2019-07-14-0603_7-EC-B-Sat.ser
Date=2019_07_14
Start=06_02_29.602
Mid=06_03_44.602
End=06_04_59.603
Start(UT)=06_02_29.602
Mid(UT)=06_03_44.602
End(UT)=06_04_59.603
Duration=150.001s
Date_format=yyyy_MM_dd
Time_format=HH_mm_ss
LT=UT -6h
Frames captured=7497
File type=SER
Binning=no
Bit depth=8bit
Debayer=no
ROI=696x384
ROI(Offset)=0x0
FPS (avg.)=49
Shutter=20.00ms
Gain=380 (63%)
AutoHisto=75 (off)
Gamma=50 (off)
USBTraffic=40 (off)
Brightness=1 (off)
AutoExposure=off
SoftwareGain=10 (off)
HighSpeed=off
AutoGain=off
FPS=100 (off)
Histogramm(min)=0
Histogramm(max)=104
Histogramm=40%
Noise(avg.deviation)=1.94
AutoAlign=false
PreFilter=none
Limit=150 Seconds
Sensor temperature=36.3°C
Focuser position=4115
FireCapture v2.6  Settings
------------------------------------
Observer=Ethan Chappel
Camera=ZWO ASI290MM
Filter=G
Profile=Saturn
Diameter=18.31"
Magnitude=0.07
CMI=68.1° CMIII=257.4°  (during mid of capture)
FocalLength=8100mm (F/28)
Resolution=0.07"
Filename=2019-07-14-0558_6-EC-G-Sat.ser
Date=2019_07_14
Start=05_57_24.073
Mid=05_58_39.083
End=05_59_54.093
Start(UT)=05_57_24.073
Mid(UT)=05_58_39.083
End(UT)=05_59_54.093
Duration=150.020s
Date_format=yyyy_MM_dd
Time_format=HH_mm_ss
LT=UT -6h
Frames captured=7498
File type=SER
Binning=no
Bit depth=8bit
Debayer=no
ROI=696x384
ROI(Offset)=0x0
FPS (avg.)=49
Shutter=20.00ms
Gain=350 (58%)
AutoHisto=75 (off)
Gamma=50 (off)
USBTraffic=40 (off)
Brightness=1 (off)
AutoExposure=off
SoftwareGain=10 (off)
HighSpeed=off
AutoGain=off
FPS=100 (off)
Histogramm(min)=0
Histogramm(max)=109
Histogramm=42%
Noise(avg.deviation)=1.47
AutoAlign=false
PreFilter=none
Limit=150 Seconds
Sensor temperature=36.5°C
Focuser position=4160
FireCapture v2.6  Settings
------------------------------------
Observer=Ethan Chappel
Camera=ZWO ASI290MM
Filter=R
Profile=Saturn
Diameter=18.31"
Magnitude=0.07
CMI=65.9° CMIII=255.4°  (during mid of capture)
FocalLength=8150mm (F/29)
Resolution=0.07"
Filename=2019-07-14-0555_0-EC-R-Sat.ser
Date=2019_07_14
Start=05_53_45.409
Mid=05_55_00.417
End=05_56_15.426
Start(UT)=05_53_45.409
Mid(UT)=05_55_00.417
End(UT)=05_56_15.426
Duration=150.017s
Date_format=yyyy_MM_dd
Time_format=HH_mm_ss
LT=UT -6h
Frames captured=7498
File type=SER
Binning=no
Bit depth=8bit
Debayer=no
ROI=696x384
ROI(Offset)=0x0
FPS (avg.)=49
Shutter=20.00ms
Gain=350 (58%)
AutoHisto=75 (off)
Gamma=50 (off)
USBTraffic=40 (off)
Brightness=1 (off)
AutoExposure=off
SoftwareGain=10 (off)
HighSpeed=off
AutoGain=off
FPS=100 (off)
Histogramm(min)=0
Histogramm(max)=129
Histogramm=50%
Noise(avg.deviation)=1.53
AutoAlign=false
PreFilter=none
Limit=150 Seconds
Sensor temperature=36.5°C
Focuser position=4230
FireCapture v2.6  Settings
------------------------------------
Observer=Ethan Chappel
Camera=ZWO ASI290MM
Filter=B
Profile=Saturn
Diameter=18.31"
Magnitude=0.07
CMI=63.5° CMIII=253.0°  (during mid of capture)
FocalLength=8100mm (F/28)
Resolution=0.07"
Filename=2019-07-14-0550_7-EC-B-Sat.ser
Date=2019_07_14
Start=05_49_32.161
Mid=05_50_47.161
End=05_52_02.162
Start(UT)=05_49_32.161
Mid(UT)=05_50_47.161
End(UT)=05_52_02.162
Duration=150.001s
Date_format=yyyy_MM_dd
Time_format=HH_mm_ss
LT=UT -6h
Frames captured=7497
File type=SER
Binning=no
Bit depth=8bit
Debayer=no
ROI=696x384
ROI(Offset)=0x0
FPS (avg.)=49
Shutter=20.00ms
Gain=380 (63%)
AutoHisto=75 (off)
Gamma=50 (off)
USBTraffic=40 (off)
Brightness=1 (off)
AutoExposure=off
SoftwareGain=10 (off)
HighSpeed=off
AutoGain=off
FPS=100 (off)
Histogramm(min)=0
Histogramm(max)=109
Histogramm=42%
Noise(avg.deviation)=1.95
AutoAlign=false
PreFilter=none
Limit=150 Seconds
Sensor temperature=36.5°C
Focuser position=4150
FireCapture v2.6  Settings
------------------------------------
Observer=Ethan Chappel
Camera=ZWO ASI290MM
Filter=G
Profile=Saturn
Diameter=18.31"
Magnitude=0.07
CMI=59.8° CMIII=249.4°  (during mid of capture)
FocalLength=8150mm (F/29)
Resolution=0.07"
Filename=2019-07-14-0544_5-EC-G-Sat.ser
Date=2019_07_14
Start=05_43_15.435
Mid=05_44_30.436
End=05_45_45.437
Start(UT)=05_43_15.435
Mid(UT)=05_44_30.436
End(UT)=05_45_45.437
Duration=150.002s
Date_format=yyyy_MM_dd
Time_format=HH_mm_ss
LT=UT -6h
Frames captured=7497
File type=SER
Binning=no
Bit depth=8bit
Debayer=no
ROI=696x384
ROI(Offset)=0x0
FPS (avg.)=49
Shutter=20.00ms
Gain=350 (58%)
AutoHisto=75 (off)
Gamma=50 (off)
USBTraffic=40 (off)
Brightness=1 (off)
AutoExposure=off
SoftwareGain=10 (off)
HighSpeed=off
AutoGain=off
FPS=100 (off)
Histogramm(min)=0
Histogramm(max)=106
Histogramm=41%
Noise(avg.deviation)=1.47
AutoAlign=false
PreFilter=none
Limit=150 Seconds
Sensor temperature=36.6°C
Focuser position=4305
FireCapture v2.6  Settings
------------------------------------
Observer=Ethan Chappel
Camera=ZWO ASI290MM
Filter=R
Profile=Saturn
Diameter=18.31"
Magnitude=0.07
CMI=56.8° CMIII=246.6°  (during mid of capture)
FocalLength=8150mm (F/29)
Resolution=0.07"
Filename=2019-07-14-0539_4-EC-R-Sat.ser
Date=2019_07_14
Start=05_38_12.215
Mid=05_39_27.221
End=05_40_42.227
Start(UT)=05_38_12.215
Mid(UT)=05_39_27.221
End(UT)=05_40_42.227
Duration=150.012s
Date_format=yyyy_MM_dd
Time_format=HH_mm_ss
LT=UT -6h
Frames captured=7497
File type=SER
Binning=no
Bit depth=8bit
Debayer=no
ROI=696x384
ROI(Offset)=0x0
FPS (avg.)=49
Shutter=20.00ms
Gain=350 (58%)
AutoHisto=75 (off)
Gamma=50 (off)
USBTraffic=40 (off)
Brightness=1 (off)
AutoExposure=off
SoftwareGain=10 (off)
HighSpeed=off
AutoGain=off
FPS=100 (off)
Histogramm(min)=0
Histogramm(max)=131
Histogramm=51%
Noise(avg.deviation)=1.53
AutoAlign=false
PreFilter=none
Limit=150 Seconds
Sensor temperature=36.7°C
Focuser position=4375
FireCapture v2.6  Settings
------------------------------------
Observer=Ethan Chappel
Camera=ZWO ASI290MM
Filter=B
Profile=Saturn
Diameter=18.31"
Magnitude=0.07
CMI=54.4° CMIII=244.3°  (during mid of capture)
FocalLength=8100mm (F/28)
Resolution=0.07"
Filename=2019-07-14-0535_4-EC-B-Sat.ser
Date=2019_07_14
Start=05_34_09.949
Mid=05_35_24.949
End=05_36_39.950
Start(UT)=05_34_09.949
Mid(UT)=05_35_24.949
End(UT)=05_36_39.950
Duration=150.001s
Date_format=yyyy_MM_dd
Time_format=HH_mm_ss
LT=UT -6h
Frames captured=7497
File type=SER
Binning=no
Bit depth=8bit
Debayer=no
ROI=696x384
ROI(Offset)=0x0
FPS (avg.)=49
Shutter=20.00ms
Gain=380 (63%)
AutoHisto=75 (off)
Gamma=50 (off)
USBTraffic=40 (off)
Brightness=1 (off)
AutoExposure=off
SoftwareGain=10 (off)
HighSpeed=off
AutoGain=off
FPS=100 (off)
Histogramm(min)=0
Histogramm(max)=116
Histogramm=45%
Noise(avg.deviation)=1.95
AutoAlign=false
PreFilter=none
Limit=150 Seconds
Sensor temperature=36.7°C
Focuser position=4325
FireCapture v2.6  Settings
------------------------------------
Observer=Ethan Chappel
Camera=ZWO ASI290MM
Filter=G
Profile=Saturn
Diameter=18.31"
Magnitude=0.07
CMI=47.3° CMIII=237.4°  (during mid of capture)
FocalLength=8150mm (F/29)
Resolution=0.07"
Filename=2019-07-14-0523_1-EC-G-Sat.ser
Date=2019_07_14
Start=05_21_53.729
Mid=05_23_08.738
End=05_24_23.747
Start(UT)=05_21_53.729
Mid(UT)=05_23_08.738
End(UT)=05_24_23.747
Duration=150.018s
Date_format=yyyy_MM_dd
Time_format=HH_mm_ss
LT=UT -6h
Frames captured=7498
File type=SER
Binning=no
Bit depth=8bit
Debayer=no
ROI=696x384
ROI(Offset)=0x0
FPS (avg.)=49
Shutter=20.00ms
Gain=350 (58%)
AutoExposure=off
AutoGain=off
AutoHisto=75 (off)
HighSpeed=off
Brightness=1 (off)
FPS=100 (off)
USBTraffic=40 (off)
SoftwareGain=10 (off)
Gamma=50 (off)
Histogramm(min)=0
Histogramm(max)=102
Histogramm=40%
Noise(avg.deviation)=1.38
AutoAlign=false
PreFilter=none
Limit=150 Seconds
Sensor temperature=35.2°C