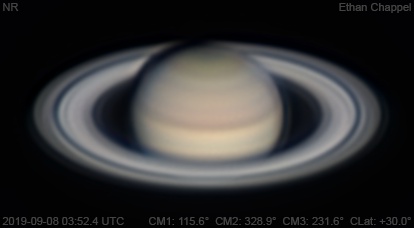 Saturn UTC
CM1: 115.60°
CM2: 328.90°
CM3: 231.60°
CLat: +30.00°
Description
Conditions for imaging were poor again. I had to wait for some clouds to disperse before moving on from Jupiter to Saturn. Like last imaging session, there were issues with intense heat currents coming off the C8 because it was much warmer than the ambient temperature.
Notes:
The North Polar Region is various shades of green.
The North North Temperate Belt is dark.
Equipment
ZWO ASI174MM
Celestron X-Cel 3x
Celestron EdgeHD 8
Logs
FireCapture v2.6  Settings
------------------------------------
Observer=Ethan Chappel
Camera=ZWO ASI174MM
Filter=B
Profile=Saturn
Diameter=17.38"
Magnitude=0.41
CMI=120.9° CMIII=236.7°  (during mid of capture)
FocalLength=6900mm (F/24)
Resolution=0.18"
Filename=2019-09-08-0401_5-EC-B-Sat.ser
Date=2019_09_08
Start=04_00_15.851
Mid=04_01_30.861
End=04_02_45.871
Start(UT)=04_00_15.851
Mid(UT)=04_01_30.861
End(UT)=04_02_45.871
Duration=150.020s
Date_format=yyyy_MM_dd
Time_format=HH_mm_ss
LT=UT -6h
Frames captured=2998
File type=SER
Binning=no
Bit depth=8bit
Debayer=no
ROI=456x258
ROI(Offset)=0x0
FPS (avg.)=19
Shutter=50.00ms
Gain=400 (100%)
Gamma=50 (off)
Brightness=1 (off)
FPS=100 (off)
AutoGain=off
SoftwareGain=10 (off)
USBTraffic=80 (off)
AutoExposure=off
AutoHisto=75 (off)
HighSpeed=off
Histogramm(min)=0
Histogramm(max)=96
Histogramm=37%
Noise(avg.deviation)=1.88
AutoAlign=false
PreFilter=none
Limit=150 Seconds
Sensor temperature=41.3°C
FireCapture v2.6  Settings
------------------------------------
Observer=Ethan Chappel
Camera=ZWO ASI174MM
Filter=G
Profile=Saturn
Diameter=17.38"
Magnitude=0.41
CMI=118.8° CMIII=234.7°  (during mid of capture)
FocalLength=6900mm (F/24)
Resolution=0.18"
Filename=2019-09-08-0357_9-EC-G-Sat.ser
Date=2019_09_08
Start=03_56_44.598
Mid=03_57_59.608
End=03_59_14.619
Start(UT)=03_56_44.598
Mid(UT)=03_57_59.608
End(UT)=03_59_14.619
Duration=150.021s
Date_format=yyyy_MM_dd
Time_format=HH_mm_ss
LT=UT -6h
Frames captured=5990
File type=SER
Binning=no
Bit depth=8bit
Debayer=no
ROI=456x258
ROI(Offset)=0x0
FPS (avg.)=39
Shutter=25.00ms
Gain=390 (97%)
Gamma=50 (off)
Brightness=1 (off)
FPS=100 (off)
AutoGain=off
SoftwareGain=10 (off)
USBTraffic=80 (off)
AutoExposure=off
AutoHisto=75 (off)
HighSpeed=off
Histogramm(min)=0
Histogramm(max)=103
Histogramm=40%
Noise(avg.deviation)=1.53
AutoAlign=false
PreFilter=none
Limit=150 Seconds
Sensor temperature=41.6°C
FireCapture v2.6  Settings
------------------------------------
Observer=Ethan Chappel
Camera=ZWO ASI174MM
Filter=R
Profile=Saturn
Diameter=17.38"
Magnitude=0.41
CMI=116.8° CMIII=232.8°  (during mid of capture)
FocalLength=6800mm (F/24)
Resolution=0.18"
Filename=2019-09-08-0354_5-EC-R-Sat.ser
Date=2019_09_08
Start=03_53_15.316
Mid=03_54_30.317
End=03_55_45.318
Start(UT)=03_53_15.316
Mid(UT)=03_54_30.317
End(UT)=03_55_45.318
Duration=150.002s
Date_format=yyyy_MM_dd
Time_format=HH_mm_ss
LT=UT -6h
Frames captured=4992
File type=SER
Binning=no
Bit depth=8bit
Debayer=no
ROI=456x258
ROI(Offset)=0x0
FPS (avg.)=33
Shutter=30.00ms
Gain=400 (100%)
Gamma=50 (off)
Brightness=1 (off)
FPS=100 (off)
AutoGain=off
SoftwareGain=10 (off)
USBTraffic=80 (off)
AutoExposure=off
AutoHisto=75 (off)
HighSpeed=off
Histogramm(min)=0
Histogramm(max)=109
Histogramm=42%
Noise(avg.deviation)=1.84
AutoAlign=false
PreFilter=none
Limit=150 Seconds
Sensor temperature=41.6°C
FireCapture v2.6  Settings
------------------------------------
Observer=Ethan Chappel
Camera=ZWO ASI174MM
Filter=B
Profile=Saturn
Diameter=17.38"
Magnitude=0.41
CMI=114.7° CMIII=230.8°  (during mid of capture)
FocalLength=6900mm (F/24)
Resolution=0.18"
Filename=2019-09-08-0351_0-EC-B-Sat.ser
Date=2019_09_08
Start=03_49_45.957
Mid=03_51_00.958
End=03_52_15.959
Start(UT)=03_49_45.957
Mid(UT)=03_51_00.958
End(UT)=03_52_15.959
Duration=150.002s
Date_format=yyyy_MM_dd
Time_format=HH_mm_ss
LT=UT -6h
Frames captured=2998
File type=SER
Binning=no
Bit depth=8bit
Debayer=no
ROI=456x258
ROI(Offset)=0x0
FPS (avg.)=19
Shutter=50.00ms
Gain=400 (100%)
Gamma=50 (off)
Brightness=1 (off)
FPS=100 (off)
AutoGain=off
SoftwareGain=10 (off)
USBTraffic=80 (off)
AutoExposure=off
AutoHisto=75 (off)
HighSpeed=off
Histogramm(min)=0
Histogramm(max)=91
Histogramm=35%
Noise(avg.deviation)=1.90
AutoAlign=false
PreFilter=none
Limit=150 Seconds
Sensor temperature=42.0°C
FireCapture v2.6  Settings
------------------------------------
Observer=Ethan Chappel
Camera=ZWO ASI174MM
Filter=G
Profile=Saturn
Diameter=17.38"
Magnitude=0.41
CMI=112.2° CMIII=228.4°  (during mid of capture)
FocalLength=6950mm (F/24)
Resolution=0.17"
Filename=2019-09-08-0346_7-EC-G-Sat.ser
Date=2019_09_08
Start=03_45_28.101
Mid=03_46_43.104
End=03_47_58.107
Start(UT)=03_45_28.101
Mid(UT)=03_46_43.104
End(UT)=03_47_58.107
Duration=150.006s
Date_format=yyyy_MM_dd
Time_format=HH_mm_ss
LT=UT -6h
Frames captured=5990
File type=SER
Binning=no
Bit depth=8bit
Debayer=no
ROI=456x258
ROI(Offset)=0x0
FPS (avg.)=39
Shutter=25.00ms
Gain=390 (97%)
Gamma=50 (off)
Brightness=1 (off)
FPS=100 (off)
AutoGain=off
SoftwareGain=10 (off)
USBTraffic=80 (off)
AutoExposure=off
AutoHisto=75 (off)
HighSpeed=off
Histogramm(min)=0
Histogramm(max)=112
Histogramm=43%
Noise(avg.deviation)=1.53
AutoAlign=false
PreFilter=none
Limit=150 Seconds
Sensor temperature=42.2°C
FireCapture v2.6  Settings
------------------------------------
Observer=Ethan Chappel
Camera=ZWO ASI174MM
Filter=R
Profile=Saturn
Diameter=17.38"
Magnitude=0.41
CMI=109.9° CMIII=226.1°  (during mid of capture)
FocalLength=6900mm (F/24)
Resolution=0.18"
Filename=2019-09-08-0342_6-EC-R-Sat.ser
Date=2019_09_08
Start=03_41_24.323
Mid=03_42_39.323
End=03_43_54.324
Start(UT)=03_41_24.323
Mid(UT)=03_42_39.323
End(UT)=03_43_54.324
Duration=150.001s
Date_format=yyyy_MM_dd
Time_format=HH_mm_ss
LT=UT -6h
Frames captured=4992
File type=SER
Binning=no
Bit depth=8bit
Debayer=no
ROI=456x258
ROI(Offset)=0x0
FPS (avg.)=33
Shutter=30.00ms
Gain=400 (100%)
Gamma=50 (off)
Brightness=1 (off)
FPS=100 (off)
AutoGain=off
SoftwareGain=10 (off)
USBTraffic=80 (off)
AutoExposure=off
AutoHisto=75 (off)
HighSpeed=off
Histogramm(min)=0
Histogramm(max)=112
Histogramm=43%
Noise(avg.deviation)=1.84
AutoAlign=false
PreFilter=none
Limit=150 Seconds
Sensor temperature=42.3°C